Hello and welcom to my website. My name is Fabian de Boer and my artist name is Hampelman**.
I live in a small town called Emmen in the north east of the Netherlands.
I studied fine art at Academie Minerva in Groningen, graduated in 2005 and started my teaching career two years later (at Minerva).
In 2014 I got my master degree in Animation at AKV Sint Joost and now I'm a lecturer in animation and digital wizzardry. Jiiiihaaa!!
Those who cannot do, they teach 
those who cannot teach, they teach at the art academy

Woody Allan
As you might see after taking a closer look around this website I am an exception to the rule or better to say: to both of them.
I'm taking part in several collaborations:
Collectief Frons (R.I.P) with Sije Kingma and Albert Westerhof
ApFab with Albert Westerhoff
and Team Frappy as developer
On this website you can see a selection of my work from the early ages, while I was still a freshman, till now. Some of the projects are still going on, some of them are waiting for my midlife crisis to start and they are being continued, some of them surprise me when I take a look at this website (did I make that!?)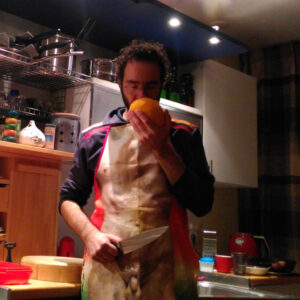 ** Hampelman(n) is German for Jumping Jack and in our local, Nedersaksisch, dialect it means bungler or dabbler.